Just some shots off of the TV from last night's LSU beatdown of Ohio State. You get to relive Todd Boeckman getting clotheslined off of his feet, and you can pinpoint the exact moment when an OSU fan's heart breaks. All in all, good stuff!


Yeah, when your team gets stomped in the championship game for the second year in a row there's not much else to do but plug your nose, close your mouth, breathe really hard and hope that your head explodes.



The school band is supposed to be eternally optimistic. You know, doing things like playing the fight song when the team gets a late touchdown, and makes the loss a respectable 70-7. When they've seemingly given up hope you know things are bad.


This picture really doesn't offer much outside of it looks sort of like Kumar is at the game wearing gaudy Paris Hilton glasses.


Just another OSU fan looking despondent. I was surprised they didn't have more shots of the crowd, but after last year they must have decided to tone it down a bit. Like that lamp reflection? I told you we were dealing high quality stuff here!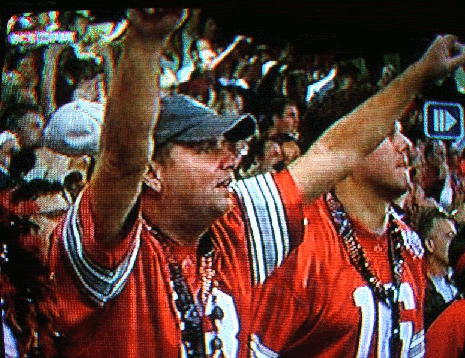 I watch this loop with the following commentary accompanying it: "Hey, look at that! Ohio State did something gre...uh...wait a minute...ah damn it." I love how he just disappears in the last frame.

And finally, Todd Boeckman took some shots last night, but this one was probably the worst. Ali Highsmith is obviously working on his form for Summer Slam.